I really had all intentions of organizing all 4 of my kitchen drawers this week. However, I just didn't get it done. I did manage to get two drawers done.
My most important focus was the utensil drawer. It's just pure craziness of a mess and it frustrated me everytime I opened it.
Here is the after: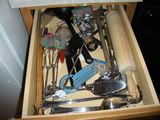 Not bad and here is what I did with all of the utensils I use the most often: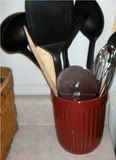 I bought this red Paula Dean utensil crock at Wal-Mart. I've decided to go with a red theme in the kitchen to match my beautiful red Kitchenaid stand mixer my parents got me for graduation and my upcoming birthday.
Be sure to check I'm an Organizing Junkie for more 52 Weeks of Organization posts.