In the past few months, I've really gotten into decorating cookies and baking cupcakes. When I start a new hobby, I dive right in and buy all sorts of stuff. Then I come to the issue of finding a place for everything.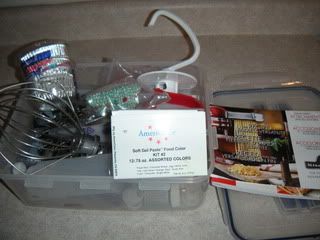 It was so unorganized that it started to stress me out. So I found some little containers and put the little things that do not have their own boxes. Then I used my original container to hold the other stuff. However, I still needed somewhere to put the large attachments and the little boxes.
So I ventured out to our Family Dollar and got a bigger container to hold the rest of the stuff.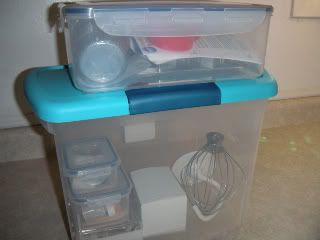 Not bad at all. I also have extra room to store the new stuff I'm sure I'll be buying. An added bonus is that we picked up a new clothes hamper for Jack. We are trying to teach him to put his clothes in it not all over the house…lol.
Check out I'm an Organizing Junkie for more 52 Weeks of Organizing.